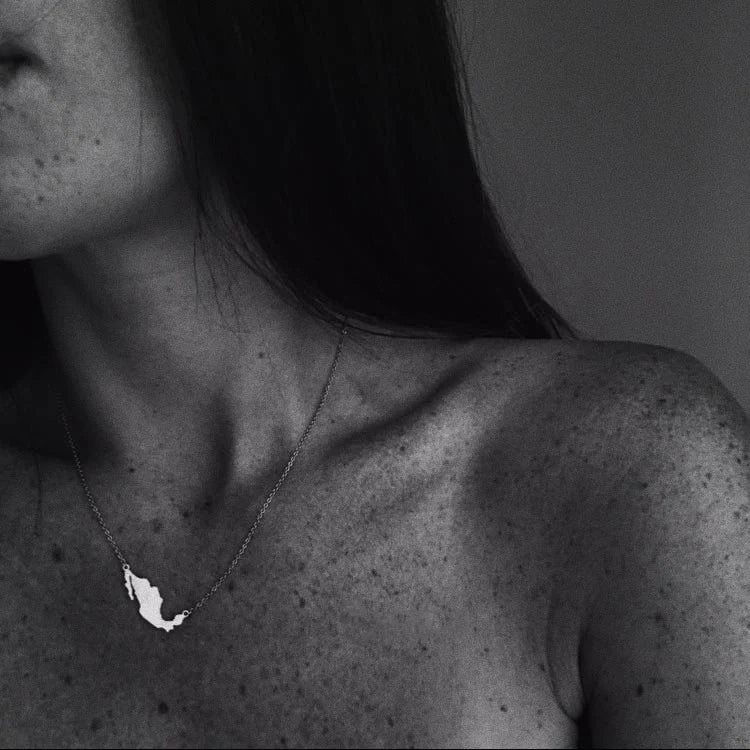 Sterling silver, mexican power
Scarlet Angel
While the creative, gastronomic and cultural scene in Mexico rises as a spearhead internationally, increasingly vibrant and setting standards in the world, PAAR proposes to look back at those elements that, due to being traditional, have not received the glory and the interest it deserves. An example can be silver, for which Paulina Villalpando, founder of the 100% Mexican jewellery brand, seeks to remember its historical relevance. And it is that Mexico is one of the main producers of silver in the world and with the largest number of goldsmiths who work it.
As an artisan tradition that has been shared many times from generation to generation, buying pieces made of silver in Mexico is supporting and promoting that this tradition continues to live on.
Silver has always been important in Mexico since pre-Hispanic times. "The Spaniards had no knowledge of mining or exploitation when they arrived in the country and it was the indigenous peoples who shared their wisdom and ancestral practices," explains Paulina in this regard. From colonial times until 2005, Mexico was the world's leading silver producer, when Peru surpassed it. Today, most silver is mined from Mexico, Peru, Chile, and China.
And, despite the fact that in recent years gold chunky pieces marked the maximum trend, with the return to fashion of the 90's and personalities such as Beyonce, Zendaya, Kim Kardashian and Rihanna, who have opted for sterling silver jewellery , silver jewellery is making its way.
Its "renaissance" goes hand in hand with those trends of the late 90's and early 2000s, when personalities and singers, like Britney Spears, always wore silver jewellery.
MYTHBUSTING: MYTHS AND TRUTHS ABOUT SILVER
Although it has already been established in different ways, it never hurts to remember that silver and gold can be perfectly mixed and matched with each other. Silver is a great metal that can be used with gemstones like black, white, champagne, and salt & pepper diamonds, as well as colored gemstones like morganite, aquamarine, peridot, tourmaline, or with pearls. Great designers have opted for silver as their favorite metal, like David Yurman. 
For a metal to be called sterling silver, the alloys must contain at least 92.5% pure silver, which is why it is called "sterling" silver. Goldsmiths especially like silver as it has excellent working characteristics: it is flexible, easily bends into new shapes, and stays put. Plus, it's extremely strong and can take the knocks that come with frequent use.
For this reason, silver is one of the three noble metals, along with gold and platinum. "Silver was more valuable than platinum in the Victorian era and that is why it was the metal chosen to make tiaras for the aristocracy", explains Paulina.
Without the risk of tarnishing, silver does not oxidize easily and it is easy to polish it at home to return it to its maximum splendor. Silver is undoubtedly the favorite metal of many, especially men for their jewellery.
PAAR & SILVER
Many of PAAR pieces in its permanent collections are made of silver -up to approximately 60%-, promoting the ancestral craft tradition that exists in our country. Even many of his best sellers and most representative pieces, such as the Clementine Earrings, the bespoke Cufflinks, the Mini Cardio and Mini Spiral Necklaces, the Jungle Ring and Bracelet, and the Sankuru Choker, to name a few.
 In addition, PAAR offers its repair services for pieces made of silver and the recycling service for metals such as silver in the making of new pieces.