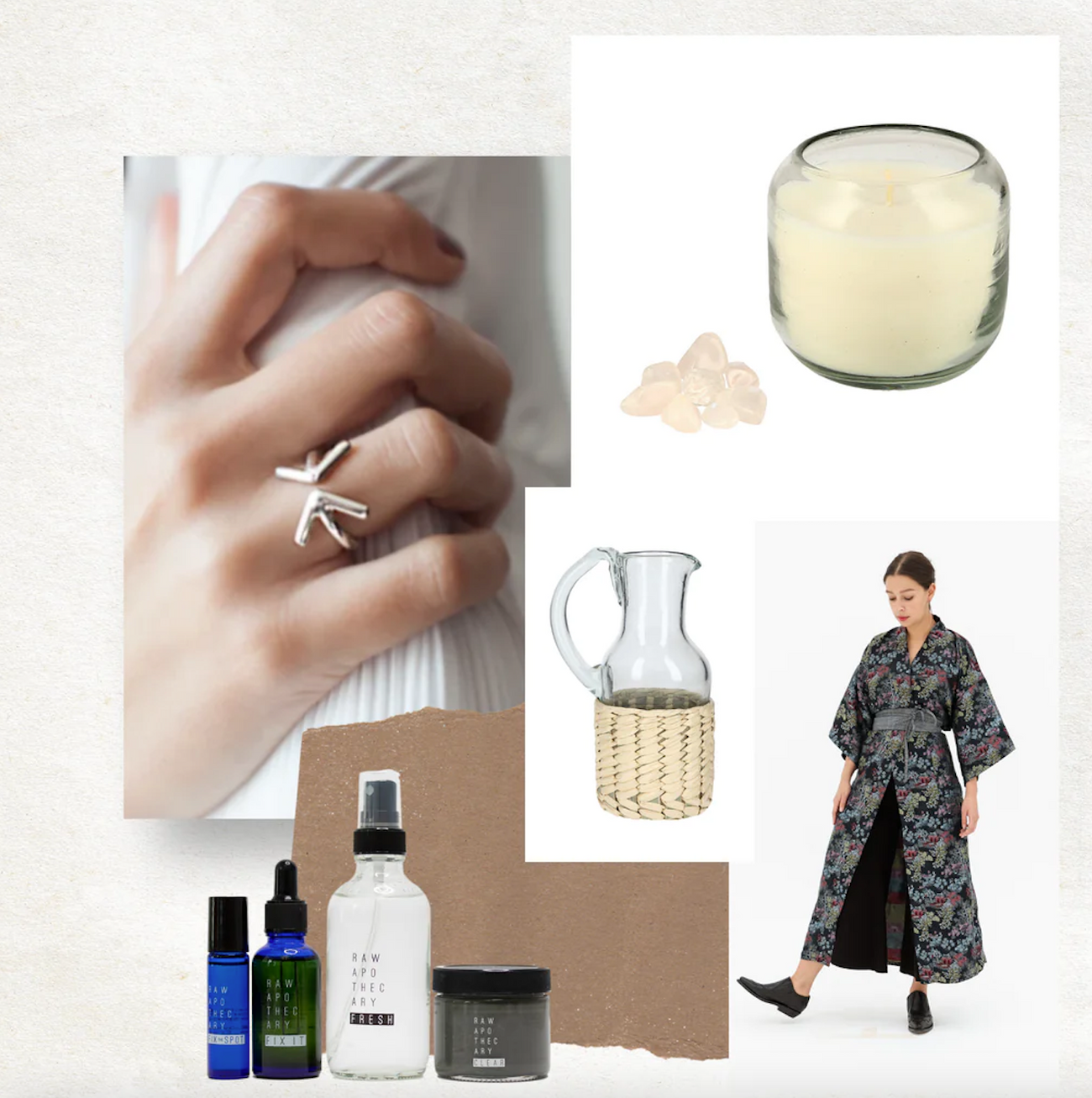 Summer Essentials
Scarlet Angel
When the year began we all thought it was going to be a normal one. If something is true of 2020, it is that anything can happen. This summer will probably go down in history as the most unusual of all. The COVID-19 pandemic has left us all unable to leave our homes, thinking about how we will transform the summer that could have been, into what it really will be.
Silver Boomerang necklace by PAAR, Glou Studio candle, facial kit by Raw Apothecary, and swimsuit by Pau Román
One thing that has struck me about the global health and economic crisis has been the power of collaboration. Businesses and consumers have come together to support each other. Brands have adapted to offer our services differently. In my case, meetings with clients became virtual sessions with a camera on and paper and pencil in hand.
Face masks from Raw Apothecary, candle from Glou Studio, Jungle Ring from PAAR and suit from Pau Román.
Probably my most important lesson of this 2020 has been that PAAR depends 100% on humans. All our pieces are handcrafted and without our team of artisans we are nothing. Having to close the shop doors for months has had an impact on the number of parts we can offer in our store, and on the speed with which we can respond to special requests from our customers. The slow fashion movement took on an even more real meaning for me in this crisis. The planet must slow down and we must further favor artisanal processes and local industries.
Silver Teer ring from PAAR, candle from Glou Studio, pitcher from AC Palma, Kimono from Armario Comunal and facial kit from Raw Apothecary.
To celebrate summer, we have launched a series on Instagram Stories called Summer Essentials where we collect products from Mexican brands (Mezcal Amores, AC Palma, Armario Comunal, Eme y Efe, Glou Studio, Hierba Buena, Pau Roman and Raw Apothecary) at that we admire and with which we share the philosophy of craftsmanship, sustainable and fair.