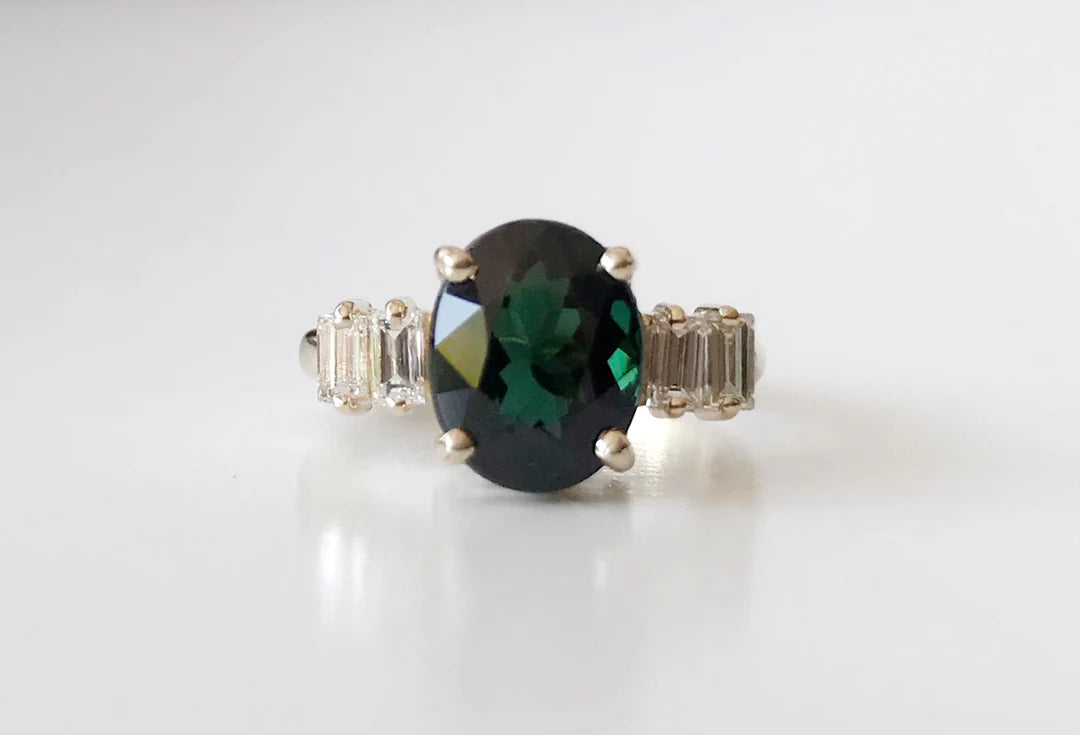 Tourmaline, one of october's gemstones
Scarlet Angel
October is one of the four months with two birthstones, opal and tourmaline. In this blog we will talk about our favorite, tourmaline.
Tourmaline, being a stone with a wide range of colors, has historically been confused with other gems. One of the "rubies" that belongs to the Russian crown jewels called "Caesar's Ruby", is actually a red tourmaline (rubellite). Also, in the 16th century a Spanish conquistador established in Brazil found green tourmalines and mistook them for emeralds. As there are many such stories, it was not until the 19th century that scientists recognized tourmaline as a different mineral species.
"Caesar's Ruby", a tourmaline mistaken for ruby.
Tourmaline is one of PAAR's favorites because in addition of being the gem found in more colors, and color shades than any other, it has a hardness of 7-7.5 on the Mohs scale, making it excellent for daily jewellery wear.  Tourmalines are usually stable enough to withstand light and most chemicals, but heat can be damaging.
This month of October we will be announcing on our social networks a variety of tourmalines that we have available so that you can make a custom ring or necklace. Just contact us at: info@paar.mx for more information. 
Here we leave you some of the pieces that we have made with this stone commemorating October birthdays:
14K YELLOW GOLD RING WITH ONE 2.70 CT DARK GREEN OVAL TOURMALINE AND FOUR 0.10 CT BAGUETTE DIAMONDS.
14K ROSE GOLD RING WITH A 1.45 CT BICOLOR GREY/LIGHT PINK EMERALD CUT TOURMALINE.
14K WHITE GOLD RING WITH A 1.15 CT PINK/PEACH BICOLOR PRINCESS CUT TOURMALINE.
Color, among other characteristics of a gem, is the most important in tourmalines. These are some of the most common varieties:
Rubellite
The color ranges from medium to deep red resembling ruby ​​and it is one of the rarest and most valuable tourmalines.
Indicolite
From bright blue to bluish-green hues this is another of the rare tourmaline colors.
Acroite
These tourmalines are colorless. They are found in Madagascar and Pala (California, USA.)
Chrome
Chrome tourmaline is derived from the deep green color of elements with traces of chrome. Found in eastern Africa.
Bicolor
They are tourmalines that go from one color to another and the change in color is generally accentuated by the type of cut they make to the gem.
Watermelon
It is a bicolor variety that has the particularity of being green on the outside (indicolite) and red on the inside (rubellite).
Canary
It is a bright yellow tourmaline found in Malawi, Africa.
Paraiba
A rare blue-green tourmaline that contains copper. It can be found in colors, very bright, neon type, and they are one of the most expensive, they can sell for up to thousands of dollars per carat. They are found in Paraiba, Brazil but have recently found copper-bearing tourmalines in Nigeria and Mozambique with a similar neon color.
Cat-eye
Iridescent tourmaline in a variety of colors. Often found in a deep, warm green.
Another characteristic that makes tourmaline incredible is a phenomenon called pleochroism. This phenomenon very strongly present in tourmaline makes it possible to see different colors or depths of color when viewed from different angles, such as when we rotate the stone in the light.