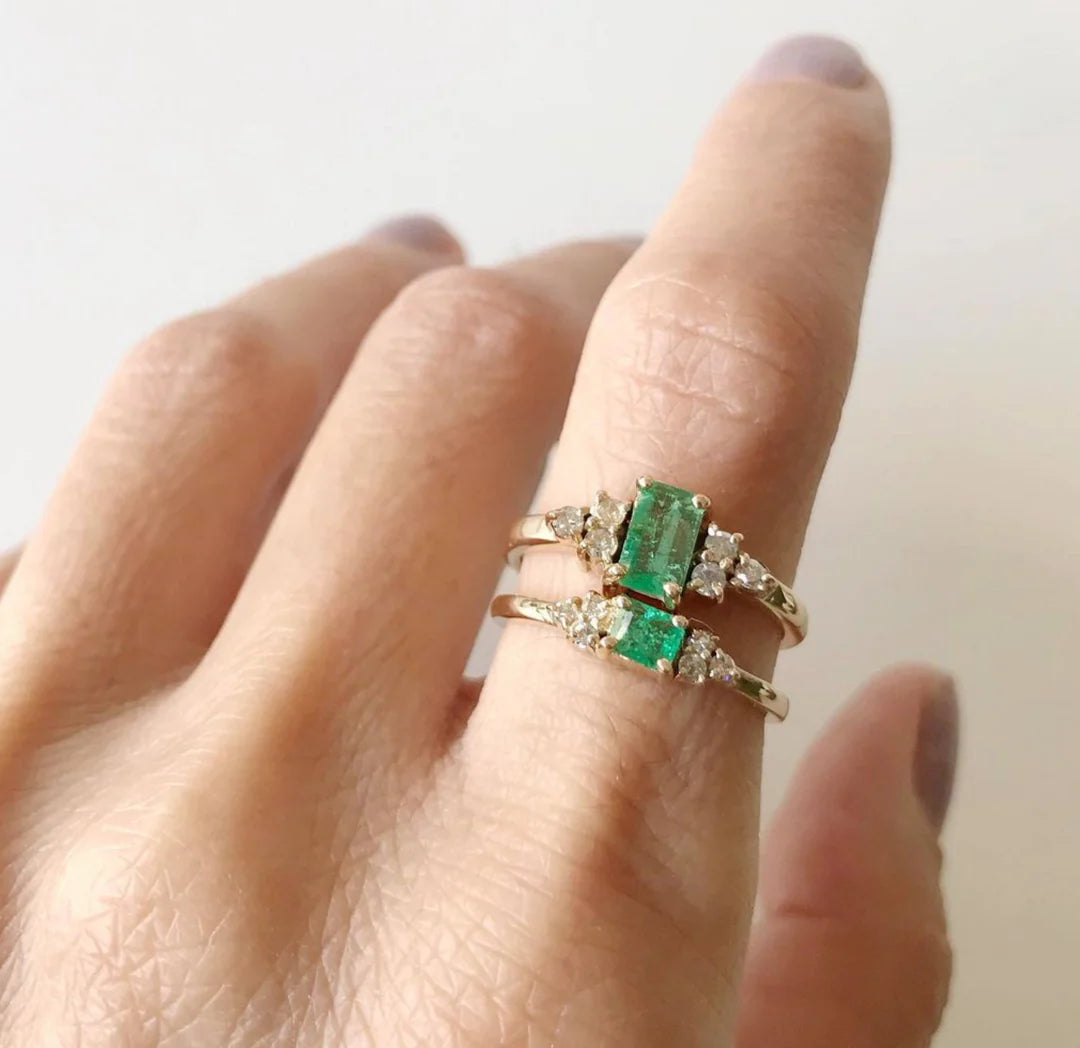 The mysticism and magic of emeralds
Scarlet Angel
In May, with spring at its best, comes the month of the emerald, the birthstone corresponding to the 5th month of the year. Green/bluish in tone, it is a gem that comes from beryllium, the same mineral that aquamarine is made of, and which is part of the three 'crown jewels' of colored gems, along with sapphire and ruby.
In addition, its popularity, magic and mysticism is such that, as with the diamond, there are famous pieces that have been part of history on different occasions.
PAAR 14k white gold ring with 11 round emeralds
It is no coincidence that it was one of the jewels that Cleopatra was obsessed with, as it is said that this gem has rejuvenating properties, which is why she surely used it in her royal jewels. And it is that, in addition, the first emerald mines date from Egypt, from 3,500 BC. Currently, emerald deposits can be found in Colombia – surely the most important and popular today – Zambia, Brazil, Ethiopia and Zimbabwe and some in the United States.
PAAR engagement ring in 14k white gold with a 1.37ct oval cut Zambian emerald and six brilliant cut diamonds 0.03ct each 
Regarding their qualities, emeralds have visible inclusions called the 'garden' of the emerald. The Colombian ones in particular have three types of inclusions: salt crystals, liquids and gas bubbles. Typically, the most expensive and most valuable are those with the fewest inclusions and the most intense color saturation. Because its density is lower, a 1.00 carat emerald looks larger than a 1.00 carat diamond.
Precisely for this reason, and because it is more prone to scratching, it is not usually recommended for engagement rings, which did not prevent it from being the gem chosen by the King of England, Edward VIII, to give to Wallis as a sign of his engagement. Simpson, the woman for whom he renounced the British throne in 1937.
PAAR ear climbers in 14k white gold with two emeralds and six diamonds each
Another of the famous jewels that carry an emerald is the Chalk Emerald, of 37.82 carats (7,564 g), which was originally set as the center stone in a diamond necklace by Maharani Saheba, who inherited it from her son, the Maharajah Cooch Behar. It ended up being donated by the Chalk family to the Smithsonian Natural History Museum in 1972 and is currently part of the Smithsonian's National Gem and Mineral Collection.
It is also the gem of Queen Elizabeth II's Vladimir Tiara, undoubtedly one of the most representative pieces of English royalty, commissioned by the Grand Duchess Vladimir from the Romanov Bolin court jeweler. Due to the Russian Revolution, it had to be kept in the St. Petersburg palace. After being secretly smuggled out of Russia, it was sold to Queen Mary, the current Queen's grandmother.
14k yellow gold PAAR necklace with an 1.80ct oval cut emerald and four brilliant cut diamonds 0.05ct each 
On the other hand, in astrology each zodiac sign has stones that represent it and the emerald is the gem of Taurus, a sign that corresponds to April 20/21 to May 20/21 and is characterized by being persistent, determined and reliable.
If you want a piece of PAAR jewelry with emerald, write to us at info@paar.mx