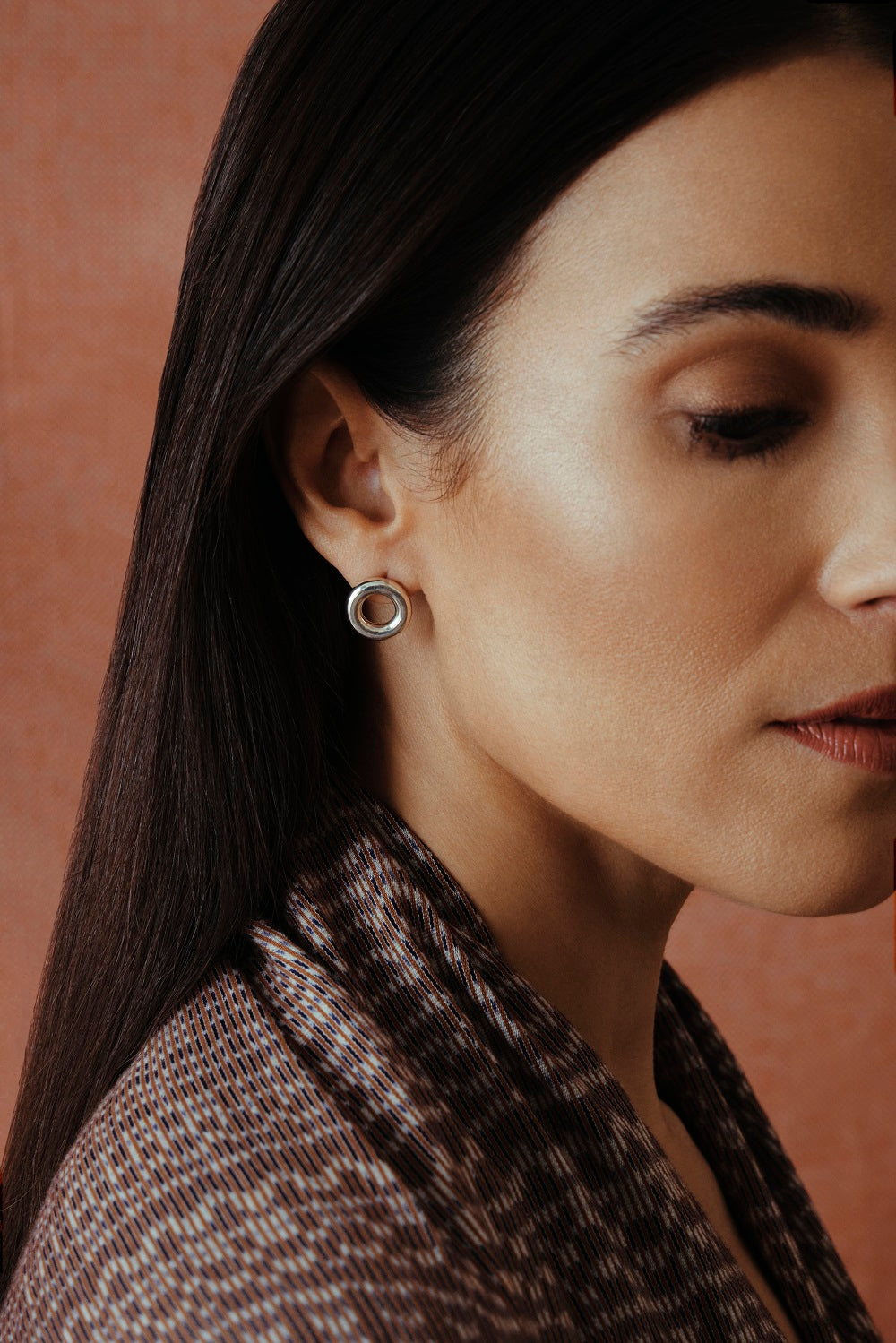 MEXICAN WOMEN SHOUTING FOR CHANGE
Scarlet Angel
From Frida, possibly one of the most international recognized Mexican artists, to Graciela Iturbide or Aurora Reyes Flores, we celebrate women who hold high the name of our country.
Women of character who not only changed Mexico, but also brought their influence, their inspiration, and their energy to the entire world. Women who dreamed big and in whom we inspired our new collection: Adelitas. Artists, photographers, scientists, writers, novelists, architects, muralists, ahead of their time and, above all, Mexican.
Each piece is designed and handcrafted in Mexico City in solid sterling silver. 
Learn more about the story of each of the Mexican women who inspired some of the pieces in the collection here:
GRACIELA ITURBIDE, THE MOMENT HUNTRESS
It is not surprising that Graciela Iturbide's photos have conquered the entire world, with that vision that reveals a Mexico as surreal as it is authentic: the visual version of magical realism that identifies the reality of Latin America. Her work in the town of Juchitán, Oaxaca, has received international awards thanks to the photos of this community. Her work and life inspire the Graciela solid sterling silver chunky round link bracelet, designed and hand made in Mexico City.
FRIDA KAHLO, THE MOST RECOGNIZED MEXICAN
Perhaps it would be difficult to find a more reproduced and more international recognized Mexican than Frida Kahlo, from her work to her very life she has filled screens, designs, earrings, and entire collections of great designers. Her self-portraits, her aesthetics, her revaluation of what is Mexican, together with her deeply feminine and unique vision, is a cry for freedom that still echoes today. Her life and achievements inspired PAAR's Frida bracelet, made of .925 solid silver oval links.
AURORA REYES FLORES, THE MURALIST AND SUFFRAGISTER
Aurora Reyes Flores was the first Mexican muralist and, in her paintings, she portrayed historical, political and social events to leave testimony of her time. In addition to being a painter, she was also a poet, intellectual, activist and teacher, she proposed the creation of nurseries for the children of female teachers and supported the fight for women's rights to vote and be voted for. She inspires the Aurora bracelet, which combines oval and round links of different thicknesses.
MÓNICA MAYER, DANCING FOR FEMINISM
Mónica Mayer is one of the pioneers of feminist art and performance in Mexico and Latin America. Her way of understanding art is completely related to collectivity and community participation, to generate reflection on topics such as art, activism and feminism. The long earrings formed by a combination of round and oval hoops, which reflect movement and strength, allude to the work of this great Mexican figure.
LOLA ÁLVAREZ, FEMALE GAZE
She was considered the first Mexican female photographer and worked as a photojournalist, commercial and documentary photographer, later becoming a professional portrait painter and plastic artist. She was head of the Photographic Department of the National Institute of Fine Arts and Literature (INBAL), and worked for the Aesthetic Research Institute of the UNAM and for various State secretariats. The earrings that have her name carry magic in their simplicity, made up of round hoops, ideal for those who lead a life full of different work and social commitments.
RUTH RIVERA MARÍN, BUILDING ROADS
Today, Mexican women architects stand out for their work internationally, in the past it was considered a men's career. One of the pioneers who broke these limits was Ruth Rivera Marín, an icon of this profession in Mexico, the first woman to enter the Higher School of Engineering and Architecture of the National Polytechnic Institute and the first woman to graduate from the Higher School of Engineering and Architecture. The Ruth earrings are made up of an oval hoop and a thick round hoop, which refer to the simple jewelry that Ruth wore at the time.
ELENA GARRO, WRITING CONNECTS
Mexican novelist, screenwriter, journalist, and writer who is related to magical realism and was one of the most interesting figures in Mexican playwriting. She fully participated in the conceptual theater, especially within the movement called theater of the absurd. The earrings with two thick round hoops carry her name and her magic.
ROSARIO CASTELLANOS, FROM CHIAPAS TO DIPLOMACY
An outstanding Mexican with international fame, she combined writing with cultural promotion, journalism and diplomacy. The woman and the indigenous were some of the themes that she dared put into words at a time in which the perspective was completely biased towards Mexican and Latin American literature. From her native Chiapas, she took her vision to Madrid, the USA and Israel. With such history, and her feminist vision in defense of women's rights, the earrings that bear her name display originality, with hoops of different sizes in line.