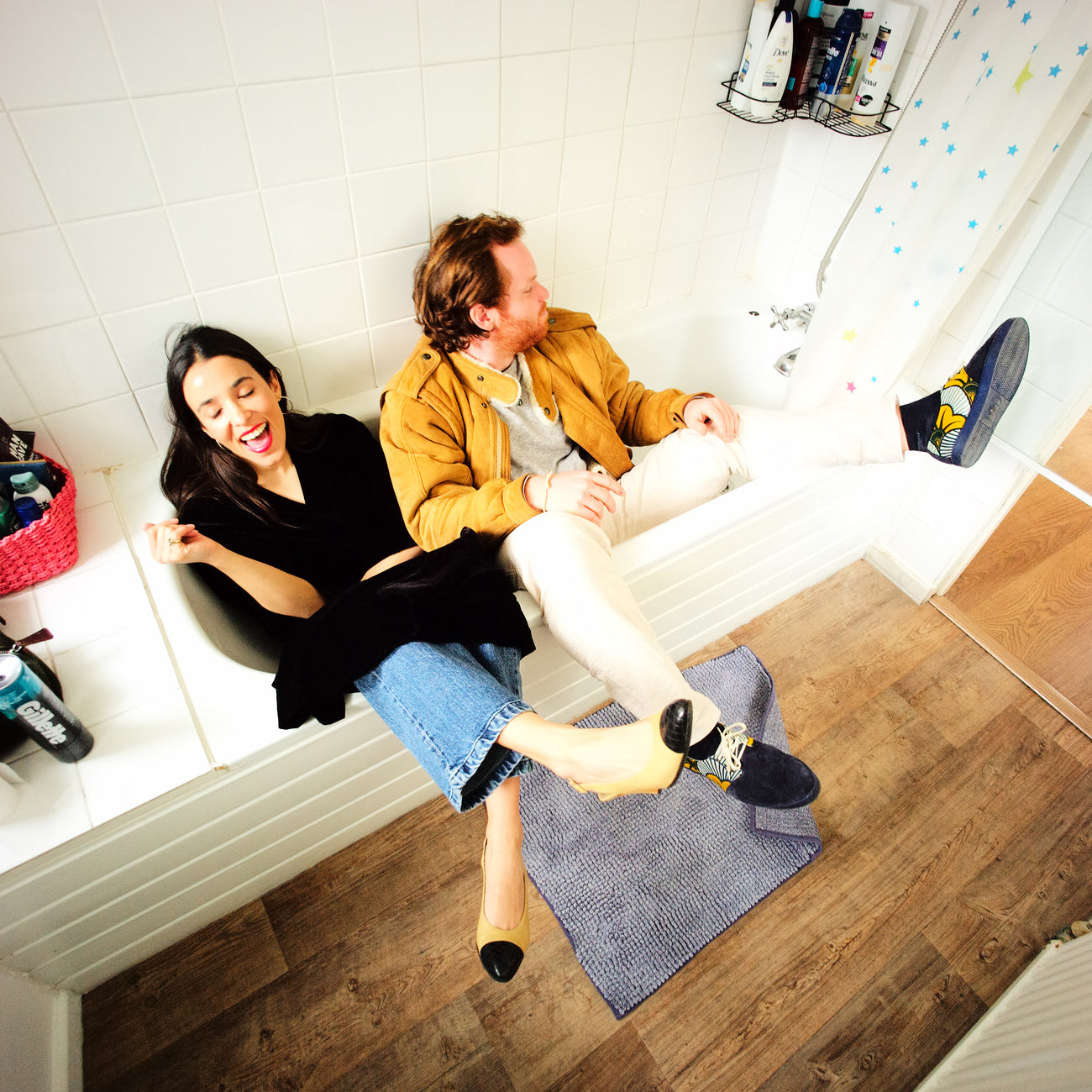 10 MOST ICONIC MOMENTS IN PAAR HISTORY
Scarlet Angel
1. UPCYCLING… BEFORE IT WAS A THING
Since the beginning, PAAR had a clear environmental vocation, all it takes is to look at the first collections, in which we used different materials such as scraps of fabric and reused materials to create pieces of jewelry. That's why, it is not surprising that today, Paulina continues to work professionally in the area of ​​environmental care and why PAAR is a leading company in raising awareness about the recycling of metals and the reuse of gems in jewelry, as well as the importance of repairing jewelry pieces in order extend their useful life.
2. THE EYE HAS TO TRAVEL
Over the years, Paulina has divided her professional and personal life between England -during her studies at the University of Oxford and now in the city of London-, with multiple trips from which she takes inspiration and a commitment to her own brand, these international experiences fueled her creativity, with a view to making PAAR a deeply Mexican brand, created in Mexico through artisan processes passed down through generations, but with a strong international vision.  PAAR is now precisely in its strongest stage of internationalization.
3. ON THE COVER OF A GREEN ISSUE
PAAR's creativity creating jewelry and accessories focused for a time on headpieces that became popular, especially at national and international music festivals. That's how a headpiece made from reused materials was used on the cover of one of the first green issues of one of the most important international fashion magazines in the world, a watershed in the brand's history. On the other hand, many national and international media have set their sights on PAAR, inviting Paulina as a guest columnist to talk about the process of building a sustainable luxury brand.
4. #WEARINGPAAR
Many celebrities, socialites, and content creators have supported PAAR since the beginning, wearing its pieces on red carpets, magazines, and in everyday looks. as one of their favorite brands. Among them, Karla Souza, Celina del Villar, Alondra de la Parra, Ana Sarelly, Hildelisa Beltrán, Maite Perroni, Oka Giner, Adriana Louvier, Silvia Navarro, Chantal and Michelle Torres and Adela Micha are and have been PAAR clients.
5. ON STAGE
Another milestone in the history of PAAR has been its presence in the world of music. PAAR has accompanied renowned singers such as Paty Cantú and Natalia Lafourcade on stage. Pau has always felt a connection to music, one of her main sources of inspiration, and continues to share recommendations and playlists in the brand's newsletters. She recently did a collaboration with DJ Harold Van Lennep, creator of Liberation, who made a special playlist for PAAR and talked about his inspiration and career.
6. REAL WORLD ICONS
When Paulina founded PAAR twenty years ago, there was Mexican market where independent brands were just beginning to take shape, and the idea was to celebrate women - and men - whose style and authenticity inspired the brand. Through the REAL WORLD ICONS series, published weekly on The PAAR Blog, one of the first fashion blogs in Mexico, Paulina interviewed people who shared their lifestyle and philosophy of life. Almost 10 years ago, many of the characters whom today continue to set standards in the world of fashion, art, and music appeared in the series, such as Paola Quintero, Josefono L Telefono, Frida Ojeda, Carla Sariñana, Daniela Sánchez Suttcliffe. The blog had hundreds of thousands of hits a year. Through this space, PAAR was one of the first brands to have its own blog, when it was not a common practice in the industry.
Today, the inspiration continues to be in these people, their stories and their unique style are reflected in PAAR's bespoke designs, one of the only custom design brands in Mexico with world-class quality.
7. LESS IS MORE
Over the years and experimentation, PAAR finds its true essence and aesthetics, in geometric and fluid designs that opt ​​for minimalism. In addition, we have all our collections permanent, with pieces that have become the brand's image and customer favorites. In addition, we've opted for fine jewelry, obtaining a GIA (Gemological Institute of America) certification, in order to give better advise our clients.
8. IN THE LOOK OF AN ACCELERATOR 
Another milestone for PAAR was having been chosen by BBVA MOMENTUM, the BBVA accelerator with New Ventures and Tec de Monterrey for young entrepreneurs in 2020. Of more than 600 applications submitted, only 100 Mexican companies created by entrepreneurs were selected for the program, with mentoring and counseling for three weeks intensively. This accelerator helped PAAR to become even more professional in all areas.
9. THE SKY IS THE LIMIT
After two decades since its birth as an extracurricular school project to gather enough money to travel to with her friends, Paulina Villalpando, founder, is ready to take the next step towards internationalization and reach to new territories, betting above all and for the moment on Europe.
10. HUMAN, LOCAL, ARTISANAL
The main focus on maintaining our values ​​has made PAAR a brand that has grown on these values. Thus, we bet on the artisanal value of the pieces, on the local industry and on the environment, always with a humanistic vision, both of the family of artisans with whom we have been working for a decade, and of the client. For this reason, today 79% of sales are bespoke pieces, of which 48.3% were made with recycled metals or reused gems. In addition, we are one of the few fine jewelry firms that, in addition to recycling, encourages jewelry repair. With this service, we ensure that jewelry truly lasts a lifetime and continue to encourage responsible consumption.