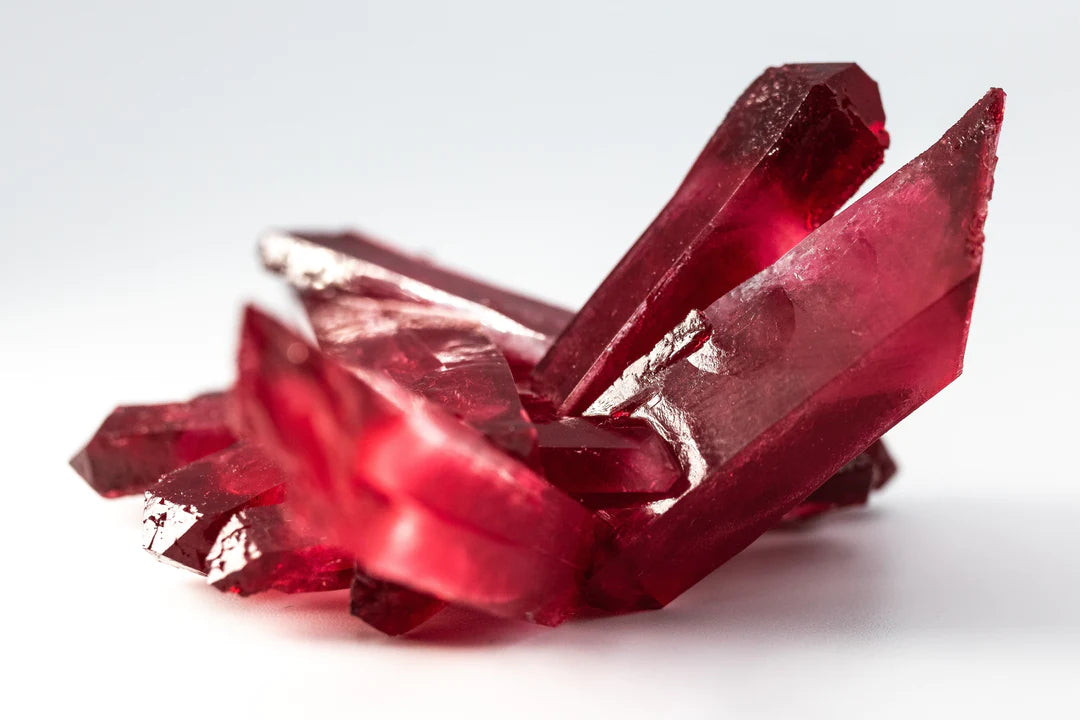 Ruby, july's gemstone
Scarlet Angel
This month's designated stone is ruby ​​and a favorite of major jewelers like Cartier, Graff, Van Cleef & Arpels, Harry Winston and Berger Jewelers. These are some of the most legendary ruby ​​pieces in jewelry houses.
1. BURMESE RUBY AND DIAMOND RING, CARTIER
Photo by Sotheby's Auction House 
The ruby ​​called The Sunrise Ruby is one of the most impressive in the world, as it is a 25.59-carat stone, adorned with shield-shaped diamonds. The ruby ​​is of Burmese origin (one of the best quality in the world) and has the purest color that can be found.
2. COLECCIÓN
 

RYTHM, GRAFF  
Photo by Graff Diamonds
The Rhythm Collection was inspired by the energy of music, resulting in jewelry that has a sense of dynamism, movement, and rhythm. Graff's masters and craftsmen put together a wide variety of marquise and pear shaped diamonds, along with the highest quality rubies.
3. RICHARD BURTON RUBY RING, VAN CLEEF & ARPELS

Photo by Christie's Auction House
This 8.24 carat ruby ​​ring was a Christmas gift in 1968 from Richard Burton to Elizabeth Taylor. It took Burton 4 years to find "the perfect red" and he succeeded because according to Elizabeth Taylor it was the most perfect colored stone she had ever seen. In 2011 it sold for 4.2 million dollars, and it holds the record for being the most expensive ruby ​​in the world.
4.
 

RUBY AND DIAMOND CUFF, GRAFF
Photo by Graff Diamonds
This Graff bracelet is a unique piece that took expert gemologists and artisans months to complete. It has a total of 174 carats of pure rubies and white diamonds, its centerpiece being a 5-carat ruby. This is an impressive piece not only for its creation, but for its complex design as well.
5. CLASSIC WINSTON, CUSHION-CUT RUBY RING, HARRY WINSTON 
Photo Harry Winston's web page
This ring has a 3.05 carat ruby ​​with side tapered baguette diamonds, totaling approximately 0.39 carats in weight and is made with platinum and 18k yellow gold. It is a design that plays with the combination of materials and stones, resulting in an extremely elegant and aesthetically light piece, even though its shapes may look complex.
6. COLECCIÓN
 

RUBÍES III, BERGER JOYEROS 

 
Photo by Berger Joyeros
We had to mention a Mexican jewelry, and that is that Berger Joyeros released a complete collection called Rubíes. In it is a set of earrings, a necklace, a ring, a bracelet, among other pieces. They used diamonds but only to frame the ruby ​​as the main stone.
7.
 

ELIZABETH TAYLOR'S RUBY NECKLACE, CARTIER. 
Photo by Christie's Auction House
Producer Mike Todd, Taylor's third husband, gave her this Cartier ruby ​​and diamond set in 1957, just a year before she died. This game was the first "big gem" of the actress.
8.
 

THE GRAND PHOENIX

 

POR FAIDEE 
Foto by Faidee 
Faidee is one of the suppliers that have high quality Burmese rubies. In addition, they have a collection of high jewelry that is dedicated to designing and making jewelry with these rubies. For the elaboration of the Grand Phoenix it took almost 70 years to collect the 24 rubies that compose it, since they are all Burmese rubies, almost impossible to find and of unmatched quality. This necklace has a total of 60 carats of rubies and 100 carats of diamonds with a cost of 35 million dollars.
In PAAR we love working with this stone. If you are interested in a bespoke or personalized piece with rubies, contact us at info@paar.mx.