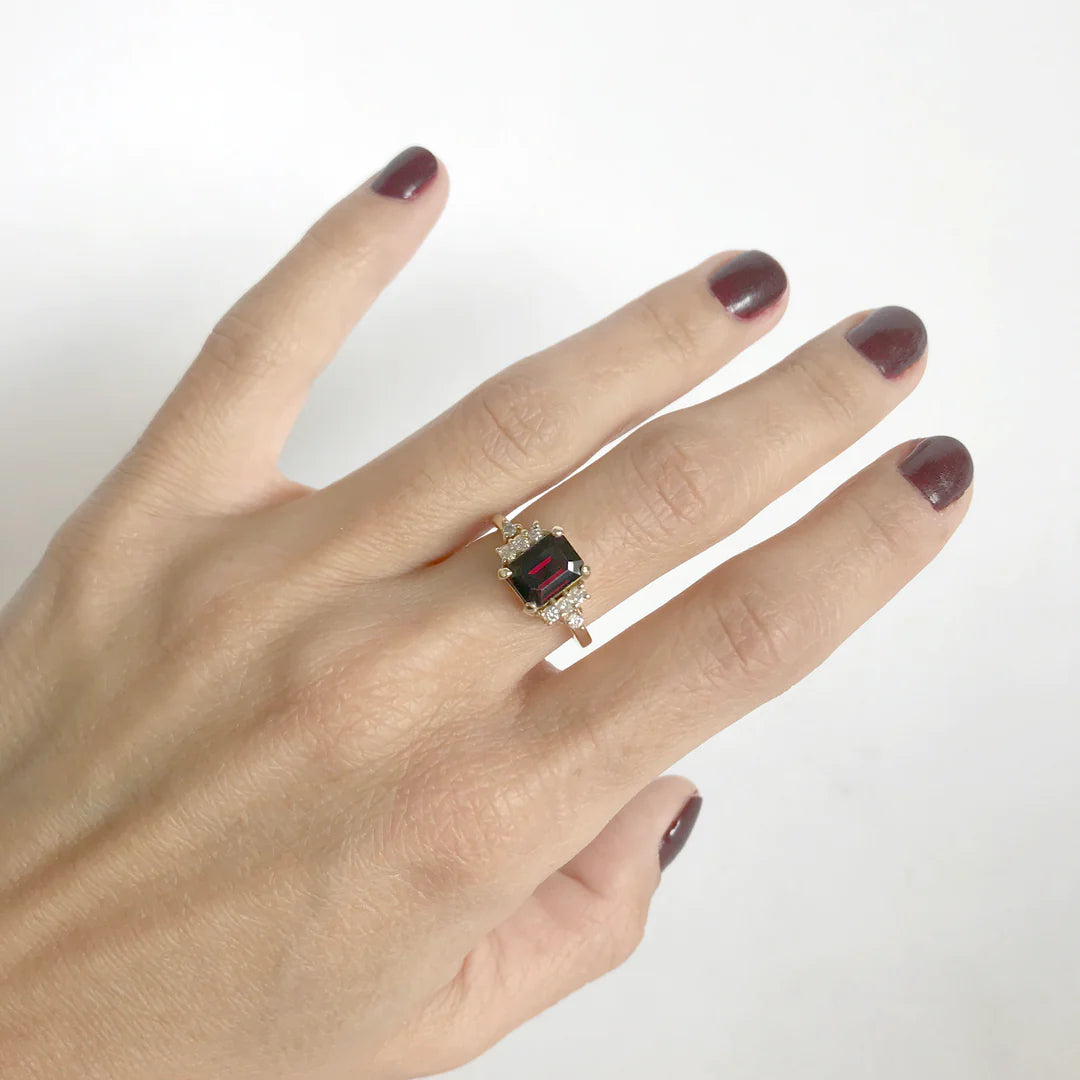 Garnet: January birthstone
Scarlet Angel
Garnet is the birthstone for January and the gem used to celebrate the second anniversary. At PAAR we like to use garnet for jewellery on request as its hardness of 7 on the Mohs scale makes it good for everyday use. These are our three favorite PAAR pieces with garnet using it as a symbol of birth or anniversary celebration.
1. CUSTOM-MADE 14K YELLOW GOLD RING WITH EMERALD CUT GARNET AND 8 DIAMONDS.
2. VERMEIL AND GARNET LETTER NECKLACE
3. 14k YELLOW GOLD SOLITAIRE NECKLACE WITH GARNET
If you were born in January and want a piece with your birthstone or want to give anniversary jewelry with garnet, write to info@paar.mx 
More about the garnet
One of the earliest pieces of garnet jewellery was a beaded necklace found in a tomb in Egypt from over 5,000 years ago. Many Egyptians were entombed with garnet jewelry so they could have them in their afterlife.
Garnet was also used for commercial purposes in Rome, and in signet type rings to create wax seals to give security to important documents.
Roman garment brooch, gold plated over silver inlaid with garnet, glass, and enamel, ca A.D. 430. From the Kunsthistorisches Museum, Vienna, Austria.
When people think of a garnet, a red stone comes to mind. The name comes from "gernet", an English word used in the 14th century meaning deep red colour. It also comes from the Latin "granatus", which means grain seed. But, although the most common color is red, there are also garnets in green tones (Tsavorite), orange, pink, purplish red and even some blue.
 Garnet is mined in more than eleven countries, including Brazil, Sri Lanka, India, and Myanmar.